Kristin Lanyon
Digital Media Designer from Winnipeg specializing in animation, motion design, illustration, and filmmaking.
---
Marble Machine
I made this marble machine animation for my Video and Motion Graphics studio project.It was a self-guided project and took over two months to plan and complete. I used Cinema 4D and rendered it in RedShift. I animated mostly using dynamics. The machine comprises rigid bodies (marbles) and collider bodies (the machine parts). The sound effects were designed in Adobe Audition after the final video file was rendered.
Follow the Sun
A passion project featuring a rigged hand moving within a 3D environment.I designed the assets using Adobe Illustrator, then rigged the hand and animated in After Effects. I wanted to work on refining my hand-rigging and 3D-space manipulation abilities.
Isometric Letter of the Future
In Cinema 4D, I created a futuristic environment using the letter "L" to make a building in the scene.I built most of the scene using cloners, making it easy to animate later. After rendering, I added some pixel blur in After Effects and mixed the audio in Adobe Audition. I finished the project within a three-week deadline, and it's one of my favourite pieces of work so far!
Grey Goose Advertisement
I used Adobe After Effects and Photoshop to create an animated advertisement for Grey Goose Vodka. I began designing a styleframe in Adobe Illustrator, which I brought into After Effects to animate. I used Adobe Photoshop to add the geese and falling liquid with hand-drawn cel animation.
Slack Logo
Ensuring adherence to their brand guidelines, I created a Slack logo animation. I began the project by creating a rough storyboard with Slack's brand identity in mind. I then made style frames in Illustrator and began animating from those. I used both Cinema 4D and After Effects to make this animation.
Explainer Video
Did you know that ostriches have smaller brains than their eyeballs? It's true! And super weird. I wanted to explain this in a fun, easy-to-understand way. I used Adobe Illustrator to design the assets for this animation and brought them into After Effects to animate. The audio was mixed at the end in Adobe Audition, including a professional voice-over.
Character Animation
Using Adobe Illustrator, After Effects, and Rubberhose, I designed and animated my favourite drag queen, Trixie Mattel, as a 2D character. I wanted to show that she has a lot of personality, so I tried to show that in her walk cycle by making it quite bouncy. I was thrilled with the result!
Motion Titles
I designed and animated motion titles for Bo Burnham's comedy special "Inside." Focusing on typographic treatment, we were required to design motion titles for a movie of our choosing. I created three styleframes in Adobe Illustrator and brought them into After Effects, where I animated.
Product Video
Collaborating with a team of three classmates, we created a product video for Kilter Brewing's beer, "Fruit Loopulin" within a three-week deadline. My group and I shot the assignment together, but we each edited our own final video. Our goal was to create a short, entertaining video highlighting the Fruit Loop taste of the beer. In Adobe Premiere Pro, I colour-corrected the footage and cut it together. From there, I added animations in After Effects and mixed audio in Adobe Audition.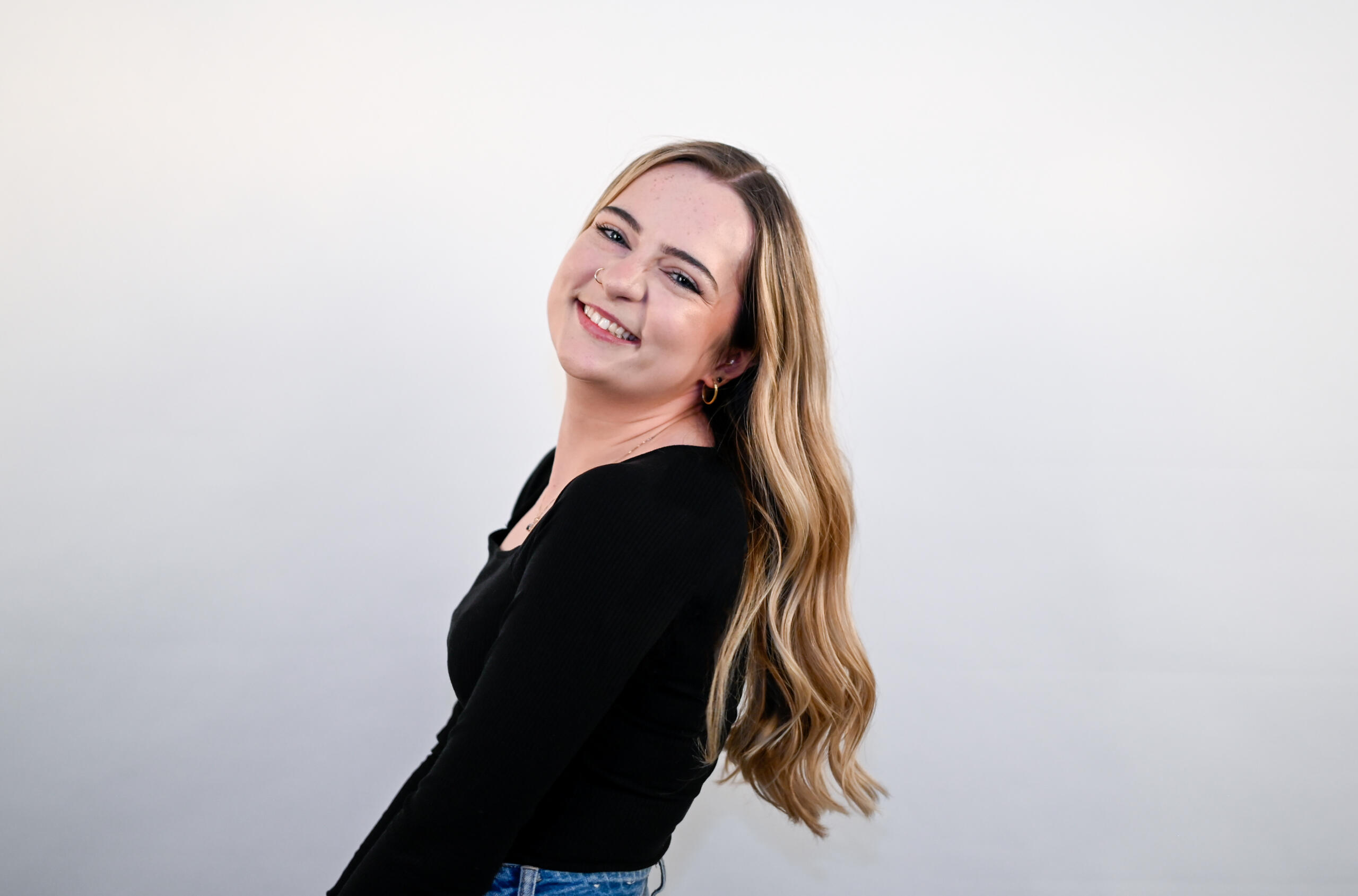 Hello! I'm a digital media designer hailing from the scenic landscapes of Winnipeg, Manitoba.Specializing in motion design, animation, and filmmaking, I'm a graduate of Red River College Polytechnic's Digital Media Design and Video & Motion Graphics program, where I sharpened my practical skills in Adobe After Effects, Illustrator, Photoshop, and Cinema 4D.My love for art and creativity started early in my life, and I've explored many different mediums over the years, including illustration, painting, pottery, screen-printing, airbrushing, and photography. Learning new ways to express myself has been a constant inspiration and fulfillment.As a digital media designer, I feel right at home in the world of creative expression.When not bringing my visions to life, I love exploring the great outdoors with my camera, spending time with my loyal pup, playing golf, or binge-watching my favourite TV shows!